Welcome!!
We hope your experience on our family web site is enjoyable!
Feel free to sign our guestbook and take a tour of our site.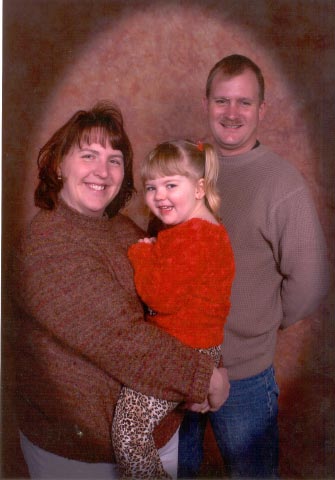 We hope that your web surfing experience will be enjoyable while at the same time share with you, a bit of our lives in the U.S. Air Force.
We are currently stationed at Ramstein Air Base in Germany. We arrived 7 July 2002 and are scheduled to return to the US sometime in Summer 2005. Julie and Kaia have returned to San Antonio on the 15th of April and Chris is now planning on a 7 July return. Oh the places we've been. So far, we have visited the Netherlands, Belgium, Switzerland, Austria, Sweden, and many locations throughout Germany. Julie has been to Poland on 3 Polish Shopping Trips and the Czech Republic where she bought a beautiful Crystal Chandelier. Chris has ridden motorcycle into France, Belgium, Luxembourg, and around Germany. Here in Germany we have been to Stuttgart, the Black Forest, Rothenberg (the old walled city), Frankfurt, Berchtesgarden, Eagles Nest (Hitler's mountain retreat), and many other day and multiple day trips. Once we get settled into San Antonio, please let us know if you are in the area! We welcome the opportunity to revisit the past, present, and future with friends!! Don't forget to sign our "WebGuestBook" at the bottom of the page!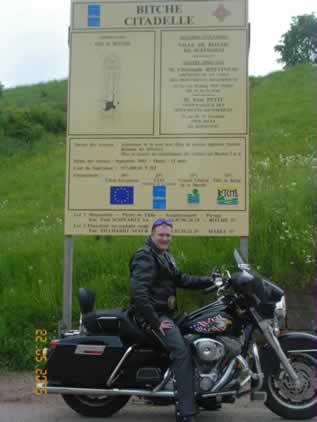 Chris is a Nurse for the Aeromedical Staging Facility (ASF), "The Busiest and Best in the Air Force." His job is moving patients on and off airplanes that are arriving and departing. Inbound patients are transported from the Airplane to the Medical Facility (normally Landstuhl Medical Center) for treatment. The greatest number of Outbound patients are bound for the US for further care or recovery. To date, he and his co-workers have moved over 25,000 patients in the last year or year and a half. He enjoys riding his motorcycle, playing with Kaia, and spending time with the family. He was recently notified of his acceptance into an Air Force school for NICU (neonatal intensive care unit). The class is starting in Aug 05, with follow-on assignment to the Wilford Hall Medical Center at San Antonio, TX. He is currently "house hopping" as the family has returned to the USA. He lived in a basement appartment (Mother-in-Law apartment) of one of his co-workers for a month and a half, and is currently living in some friends unoccupied home. Uli and Sabine (German friends) were gracious and offered to let him live in this house for the month of June. The house was sitting empty due to health issues of another family member. Uli and Sabine have opened up some more of Germany to Chris (and when he remembers it, his camera) by motorcycle. He has had many rides in the recent weeks and hopes for one or 2 more before shipping his motorcycle back to the USA on 1 July. Can you believe it? He has only had the bike for a year and a half and has over 7000 miles on it already....and I tend to NOT ride in snow, ice, and other UGLY weather. Rain is NOT considered UGLY weather in Germany. There is a saying "Fair Weather Rider"....well, in Germany, "Fair Weather Riders" don't ride.... so rain is acceptable, just hopefully not TOO hard of rain! The Lane Family has also opened their door and Chris has spent some time with them in the last months to include a ride with Chris and Lee to Aschaffenburg, GE were we were both stationed back in 1988-1990. See the photo album for more details on that ride! Chris Is GREATLY looking forward to returning to the USA to be with the rest of the family...I will miss some of the friends that I leave behind, but you never know what the future holds. I HOPE to see these friends again, whether in the USA or in Germany.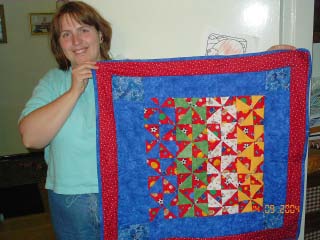 Julie is a Domestic Engineer and looking at possible part time employment opportunities in the local San Antonio area. She is keeping busy with sewing, quilting, chasing Kaia, and learning her way around San Antonio…..Although the list does go on and on! She and Kaia have gotten season tickets to Sea World, San Antonio along with a season pass for parking. The Water Park and the shows are great fun for her and Kaia. With the passes, there is no guilt about going there every day, even if only for an hour or 2 if that is all that time allows. With temps in the 90's already in May and June, the water park portion is a high point of just about every visit! She is still running Kaia to preschool, Vacation Bible School, and various other activities. She is slowly getting the house together and is looking forward to the July 7 homecoming of Chris from Germany and the one month of leave that will come along with that (I am betting that she will be equally happy when he has to return to work, but still living locally!!!)! She has been very busy unpacking boxes, setting up the house, making new friends, looking for a new church in the area, running Kaia around, and anything else she can find to keep busy (as if that isn't enough!!). She is looking forward to a mid June reunion with some old friends, the Nelsons....nope, not relatives, but VERY good friends and neighbors from the old Scott AFB days. They are moving from California to Texas (not San Antonio, but a couple hours up the road) and John will be taking a new command and job. Hopefully they will have time to drop down to the SA area once or twice!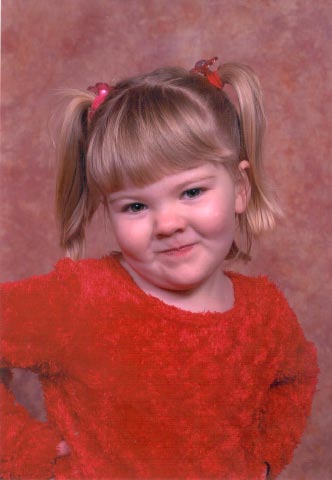 Kaia is a growing 4 year old that keeps both Mom and Dad on their toes. She is involved in everything....playing, reading, puzzles, baby dolls, and horses. She has become a very big fan of the sea lions at Sea World, and has told her dad EVERYTHING she knows about the Killer Whale, Shammo over the phone! She has been busy making new friends in the San Antonio and is planning to have dad meet them upon his arrival home. Her new bedroom at the new house is pink, a fact that she is VERY proud of. Vacation Bible School is going well, and she is involved in a summer "pre-K" type of program and loves her teachers and fellow classmates. Grandma and Grandpa Nelson came to visit in early May to assist with some of the move-in and simple maintainance to get the house on the right start....and of course play with Kaia.... Kaia STILL talks about Grandma and Grandpa coming to visit her, and playing with her. She had a grand time and is looking forward to future visits. She is VERY independent and does not like to ask for help on most things. Hmmm….Wonder who she takes after?!
Do you want to send us an e-mail? If so, click on the person you would like to send to (sorry, Kaia is too young to have her own e-mail yet so send one to her through her Mom or Dad)!
Photo Albums, Letters, and web guestbook:
or jump directly to a specific page of the 5 pages:
Julie's Quilting and Sewing Projects
Kaia at Play and Dress Up
Chris' Motorcycle and Kaia pre-riding pics
2005 Nelson Family Sledding Trip to Switzerland
Kaia's 2005, 4 year Birthday Party
Chris' Motorcycle ride to revisit Aschaffenburg, Germany (15 May 05)
Bitche France/Bitche Citadel (22 May 05)
Polizei Motorcycle Ride (Germany, Belgium, Luxembourg) 10 June 2005
ASF/CASF Going away "Party" for Chris (25 June 2005)
Riding into the American History in France, 26 June 2005
Christmas Letter 2000***Christmas Letter 2001***Christmas Letter 2002 (10.5MB file)*** Christmas Letter 2003 (39MB file)***